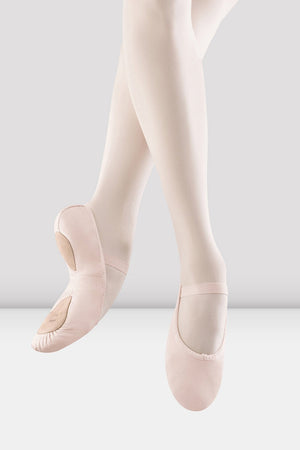 Bloch
Bloch Ladies Dansoft II Split-Sole Leather Ballet Slipper SO258L (Special Order Only)
Special order only: 7-14 business days.
We recommend choosing two sizes down from your women's street shoe size. For Tweens/youth we recommend choosing the same size as your street shoe size. Please email us for more sizing information.
This leather split sole features a satin neoprene arch and heel to contour to the foot and allow for extra length. An introductory leather ballet shoe featuring stitched oval split-sole pads which create extra support.

Incorporates satin neoprene into the soft leather upper with its stretch properties to contour to the foot and allow for extra length for dancers that may be in between sizes
Leather front half which molds to the metatarsals
Leather pleats for increased lifespan
Padded satin neo back half for a snug arch fit
Soft swan down insole pads
Flat seams to reduce ridges underfoot
Pre-sewn elastic over the intstep for a secure fit
Elastic drawstring 
Cotton lining and suede insock
A-grade leather for durable long-lasting wear