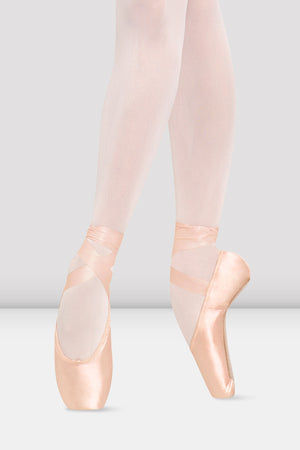 Bloch
Bloch B-Morph Pointe Shoe ESO170L (Online Only)
This style is available online only currently. Please allow an additional 5-10 business days when ordering. 
The B-Morph Pointe Shoe can be molded to perfectly fit each individual dancer's foot, with leading TMT™ technology that combines with an innovative shank to provide superior support and comfort.
TMT™ technology allows the shoe to be molded to perfection, enabling the shoe to be broken-in and molded to the foot sooner
The shank is crafted from a 21st century material that provides durable support and is virtually unbreakable
The platform is high and wide to encourage balanced weight distribution
Medium-length U-shaped vamp
The unique TMT™ paste becomes pliable when heat activated with a hair dryer, enabling the dancer to mold the shoes to the individual contours of the feet providing superior comfort
Heel cushion
Noise reduction under the pleats
Removable internal gel toe cushions
Cotton drawstring

*Ribbons and elastic sold separately.