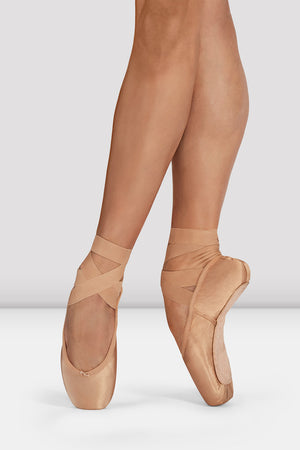 Bloch
Bloch European Balance Tonal Pointe Shoes - Shade B24
This shade is available for online ordering only. Please allow an additional 5-10 business days.
Part of the Tonal Pointe Shoe range, meticulously planned and developed in partnership with a number of incredible dancers from our BLOCH community to ensure we bring to you the very best satin shades that harmonize with a variety of skin tones.

The first colourway launching in the tonal pointe shoe series is the B27 – A golden brown with a hint of yellow and peachy undertones in our Best Selling European Balance pointe style.

Features

The Balance European allows the dancer to feel like they can stand 'en pointe' all day because the curved last and the shank remain in close contact with the instep significantly improving injury protection.
Tapered box with less internal space for the toes which creates a snug and secure fit. The exterior of the shoe has a more streamlined appearance without losing the width of the platform.
The generous platform encourages balanced weight distribution and can reduce pressure on individual metatarsals.
The European Balance has a diagonal side seam which reduces satin creasing.
The low profile of the shoe, open throat line of the vamp shape, and the elastic drawstring, creates a streamlined, snug fit.

Notes

Ribbons and elastic sold separately