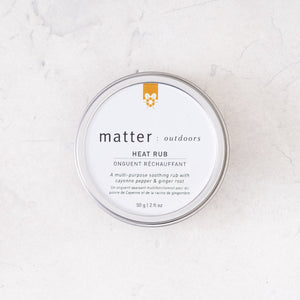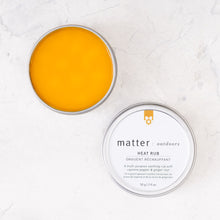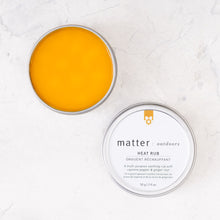 Matter Company
Heat Rub by Matter Company
Must have for your dance bag!
42 g (1.5 oz)
Soothes & revitalizes tired muscles. Relaxing massage ointment. After-sports rub. Pressure points. Chest rub. For athletes, hikers & anyone who likes it hot.
Heat Rub warms up over a long period of time, and does not burn the skin like other topical analgesics. Some people feel its heat right away, while others find it warms up over an extended period of time. All customers however, notice its pain relieving effects, immediately.
Ingredients: mustard oil, cayenne pepper, ginger root, mustard seeds, beeswax, eucalyptus, cayenne, camphor, peppermint, rosemary and thymol essential oils.
Helps with:  Arthritis/Joint Pain, Chemotherapy Relief, Cold & Flu, Diabetics, Menstrual Cramps, Poor Circulation, Sports Care
Cayenne Pepper: analgesic (pain relieving); powerful local stimulant; helpful for arthritic & rheumatic pain
Eucalyptus Essential Oil: helpful for muscular & joint pain; anti-viral, decongestant
Ginger Root: warming; promotes circulation; anti-spasmodic, carminative
Mustard Oil: warming; relieves aches & joint pain
Mustard Seeds: warming; relieves aches & joint pain
Rosemary Essential Oil: promotes circulation; anti-inflammatory; cooling, anti-septic