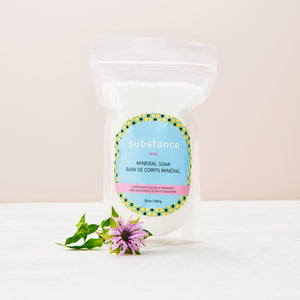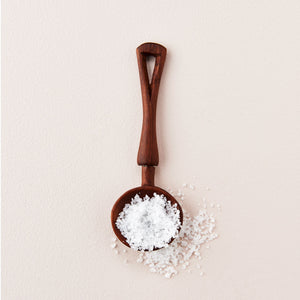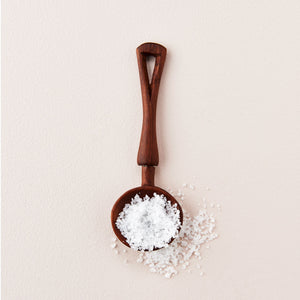 Matter Company
Mineral Soak by Matter Company
60 ml (2 oz) OR 560 g (20 oz)
with Bergamot, Elemi & Tangerine

Let natural mineral salts eliminate dead cells and rejuvenate the skin's healthy glow. Bathed in skin-nourishing carrot oil, and combined with essential oils of bergamot and elemi, our mineral soak offers that perfect opportunity for quiet contemplation.
Ingredients: sodium chloride (sea salt), magnesium sulphate (epsom salt), sodium bicarbonate (baking soda), ilex aquifolium (holly) oil, daucus carota sativa (carrot) seed oil, canarium commune gum (elemi), citrus aurantium bergamia (bergamot), cymbopgon martini (palmarosa) & citrus reticulate blanco (tangerine) essential oils.
Recommended usage: 3 heaping tablespoon or as much as one desires.
Arthritis/Joint Pain, Chemotherapy Relief, Foot Care, Menstrual Cramps, Poor Circulation, Sports Care, Stress Relief/Anxiety
Baking Soda: soothing; cleansing
Bergamot Essential Oil: uplifting; skin restorative; anti-depressant
Carrot Oil: moisturizing; skin nutrient, high in beta carotene
Elemi Essential Oil: uplifting; analgesic; anti-microbial; anti-rheumatic
Epsom Salt: relieves muscular pain; promotes circulation; relieves lactic acid from muscles; relieves stress; detoxifying
Palma Rosa Essential Oil: uplifting; prevents scar tissue from forming; reduces scar tissue
Epsom salts are said to help flush out toxins, soothe aching muscles and leaves the skin refreshed and smooth. It is recommended that people stay in the tub for no longer than 20 minutes.