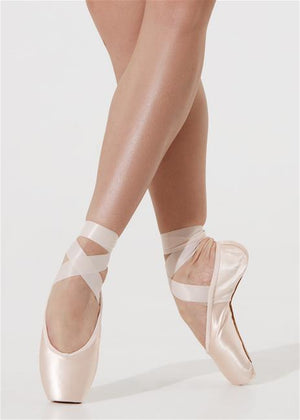 Grishko
Grishko Victory Pointe Shoe - M Shank
*Please note, 'out of stock' Grishko Pointe Shoes may have delays of up to 16-20 weeks depending on the style and size. Please email us if you would like to reserve or pre-order a specific size & style that is listed as SOLD OUT on our website!

Classic construction with easy roll-through with unique last that is built as an improvement of the Iconic "Elite" model. This new last features an elegant faux taper, while still fitting very broad and square foot shape. This model features the broadest platform in the GRISHKO® line.

ANTIBACTERIAL BOX & SOLE
Silver nano technology treatment of the inner lining.


• BROADEST PLATFORM.
• GENEROUS BOX.
• ELASTICATED BINDING.
• LUX INNER-LINING.
• EASY ROLL-THROUGH.
• SOFT ANTIBACTERIAL LINING.
Note: Available in SHANKS - S, H and SH as well. Special Order - Please email or call us if you would like another shank strength other than the M.